Telling Colleagues About Your Sexuality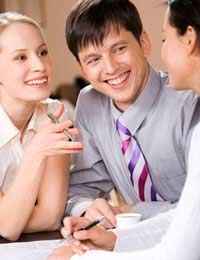 Deciding to tell colleagues about your sexuality can be very difficult. While there is legal protection against sexuality/sexual orientation discrimination in the workplace, you may be worried that the informal dynamic of the workplace will change or that you will hurt your career should you be honest about your private life. This situation will be different for everyone but better understanding your rights regarding coming out to an employer or friends at work may help you make this challenging decision.
Protection Against Discrimination
The Sexual Orientation Regulations 2003 protect employees from discrimination because of sexual orientation. This protection also extends to post-employment, if harassment or discrimination occurs due to a prior working relationship. This protection makes it illegal for employers to discriminate on the basis of sexual orientation in:
Considering someone for employment.
Offering someone employment.
Offering or negotiating terms of employment.
Offering benefits associated with employment.
Offering opportunities for training during employment.
Considering someone for advancement or promotion during employment.
Selecting you for dismissal or redundancy.
Deciding to Come Out at Work
Despite legal protection against discrimination due to sexuality many employees must still consider if revealing their sexual orientation at work will hinder their career. Ask yourself if you think coming out will:
Cause others to think of you differently.
Cause others to treat you differently.
Impact your working relationships.
Impact your workload in any way.
Affect the personal relationships you have established at work.
Affect your career further down the road.
Require extra time or energy for you to be a "trailblazer" of some sort.
Require you to field questions with which you are not comfortable.
Cause you to be treated with less respect.
Coming Out to an Employer
It is not required of any employee to discuss his or her personal life with an employer, however it is also unacceptable for an employer to treat an employee differently because of his or her personal life. You may find that you wish or need to come out to an employer because of changes in your personal life. For example, if you have entered a civil partnership and have changed your name, or because you seek benefits for your partner which are offered to employees with partners of the opposite sex. When this is the case, request an appointment with your boss or HR contact and bring your civil partnership paperwork with you. Should you be asked about your sexuality at any other time at work, such as on questionnaires or in interviews, remember that you do not need to answer these questions and should not be punished for not answering.
Coming Out to Friends at Work
Friendships at work always have a bit of a grey area surrounding them, after all are these individuals are your co-workers first and foremost. If you are very close to and have good relationships with colleagues you may wish to speak with them about your sexuality. Again, this may surround developments in your personal relationships such as meeting a new partner, entering a civil partnership or moving in with someone. Telling your friends outside of the workplace, such as while having a meal together, may be desirable. You may also ask your friends not to discuss this with others as you are not yet ready to do so. While it would be nice to think that all friends could use discretion when requested this is not always the case, so do be aware that once you speak to someone about your sexuality it may well mean that everyone else finds out too.
Telling colleagues about your sexuality is a very personal decision. There are legal protections against employment discrimination due to sexual orientation, but you will likely want to consider the ramifications of coming out from every angle before you do so. Coming out to an employer and your friends at work will require different approaches, and may have different results regarding your working relationships and environment as well.
You might also like...