Homophobia in the Classroom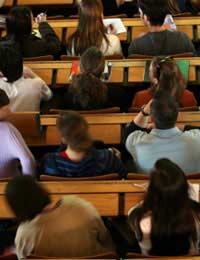 Homosexuality is a sexual orientation characterised by an attraction to members of one's own sex. Gay men, for example, are attracted to men and lesbians are attracted to women. Many people are uncertain of their sexual orientations until they are adults, which makes the teen years a confusing and often frustrating time. Though school is meant to be a safe place for all, some teens are subjected to homophobia in the classroom. Both teachers and students can be responsible for homophobia, and bullying can take place whether an individual has come out or is simply suspected of a particular sexual orientation. Below are some suggestions for coping with homophobia in the classroom.
Understanding Homophobia
Homophobia is the fear or hatred of homosexuals and homosexuality. Individuals who are homophobic fear or hate the fact that others are sexually attracted to members of their own sex. This fear can lead to behaviour that discriminates against homosexuals and consequently advantages heterosexuals. Such discrimination based on sexual orientation is illegal under The Equality Act (Sexual Orientation) Regulations 2007. This Act includes educational establishments, local education authorities and education authorities.
Homophobic Bullying By Other Pupils
Homophobic bullying by other pupils can take many forms, from hurtful comments to physical attacks. In order to stop such bullying, students should first familiarise themselves with their school's anti-bullying policy. Students should also record instances of bullying in a diary, including what happened and who was involved, and tell a trusted adult about what is happening.
Any proof of bullying, such as defaced property or hurtful electronic communications, should be saved but online abuse (such as via text messages, emails, instant messages, websites or 'blogs) should not be responded to. When ready, the student and his or her parents should confront the school and make a formal complaint. While the bullying is being investigated the student should try to stay around others as bullies often begin their activities when their victim is alone. If a student is fearful for his or her personal safety then a self-defence class could be a good idea. However, no student should be encouraged to stand up to a bully alone and those who are being bullied should guard against becoming a bully themselves. Unfortunately some victims of bullying become so frustrated with the way they are being treated that they take it out on someone else, but this just perpetuates a cycle of bullying and hurts more people.
Homophobic Bullying By Teachers
It might be hard to imagine that teachers would stoop to bullying students, but sadly this can occur. Teachers may degrading comments about a student, engage in unwanted or hostile physical contact with a student, make unwanted or suggestive sexual contact with a student, say inappropriate or lewd things to or about a student, or even suggest to a student that his or her grade depends on something other than his or her studies. If a student feels that they are being subjected to homophobic bullying by a teacher, the student should ask for a meeting with both the teacher and the department head. Parents may want to be at this meeting as well. If it is believed that nothing has come from the meeting then a formal complaint should be filed with the school. In the meantime, the student should discuss transfer options as a way of being removed from that teacher's class. It may not be fair that the student has to leave, but safety should be the first priority.
Educating Others
Though it is not right, it is often left up to the individuals who recognise discrimination such as homophobia to educate others about why these practices are inappropriate. Often educating others about sexuality, homosexuality and sexual orientations is the first step in this process since it allows others to see that people of all sexual orientations are vibrant and have much to offer. If this is not enough to stop homophobia then educating others about the law and the consequences of discrimination may become necessary, as may getting the law involved in a specific case.
You might also like...