Fighting Sexism in the Community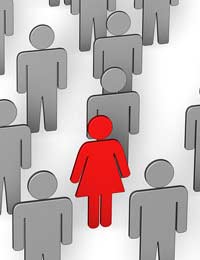 A community is only as strong as its members, and when sexism, or discrimination based on one's gender, is allowed to grow it can't help but be divisive. Women are usually those who are discriminated against, but it is possible that men can experience sexism as well. To build a truly sustainable community, sexism must be condemn and confronted whenever it does appear. This means that community members will need to work together to educate those who speak or act inappropriately and should not fear involving the police or the courts when needed to stop sexism in their community.
Sexism and Heterosexism
Sexism and heterosexism are two types of discrimination, but they are not the same thing. Sexism is discrimination based on one's gender, whereas heterosexism is a discrimination based on one's sexuality. More specifically, heterosexism is the belief that those who are heterosexual (sexually attracted to the opposite sex) are more normal and therefore better than those who are homosexual (sexually attracted to the same sex) or bisexual (sexually attracted to both sexes). However, neither type of discrimination allows for a strong and equal community.
Sexism and the Sustainable Community
A sustainable community is one which offers a variety of amenities for its residents. Affordable housing, appropriate public transportation, good schools, acceptable hospitals a number of diverse shops are all aspects of sustainable communities. Unfortunately such infrastructure means little if the community members themselves do not feel safe, accepted and equal in their own communities. Sexism, in which one half of the community is disrespected due to biological factors, means that no one in the community can truly feel safe and equal. After all, if the community is willing to discrimination against one group of people there is no telling what the next group to suffer discrimination could be.
Confronting Sexism in Communities
Communities are large groups, but it is the individual members who must operate together to confront sexism. Individuals who recognise sexism should not just identify the problem but work to educate those who contribute to it. Often discrimination stems from ignorance, so using instances of sexism as "teachable moments" will allow some good to come from them. For example, community members could explain to those who tell sexist jokes or make sexist comments why their words are hurtful and inappropriate. However, if perpetrators of sexism do not respond to these lessons then educating them about the laws regarding sexism, and the consequences of such discrimination, may be enough to stop their sexist thoughts and practices. This is usually particularly true when the consequences will affect their businesses, livelihoods or personal freedom. If perpetrators still do not respond, then getting the legal and justice systems involved may be a community's last resort.
A community is only as strong and vibrant as its members and sexism necessarily weakens the community by dividing it along gender lines. To help build truly sustainable communities, members should recognise sexism in all of its forms, understand how it can adversely affect their community and take action to confront sexism when it does occur.
You might also like...