What is Gender Identity?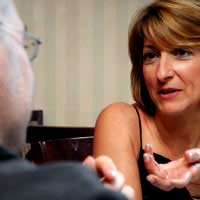 The term "gender identity" may come up often in discussions of both gender and personal identity, but it is not necessarily a term that makes its way into the average conversation. Below are some basic answers to frequently asked questions related to gender identity.
What Is Gender Identity?
Most basically put, gender identity is what it means to be a boy or girl, man or woman. It is all of the attributes and characteristics that our culture expects to go along with belonging to one or the other of the sexes.
So Sex and Gender Are Different?
In the average conversation, the terms "sex" and "gender" are often used interchangeably to denoted if someone is male or female. Technically, however, "sex" and "gender" are different. "Sex" relates to the biology of the individual, whether (s)he is male or female. "Gender" relates to how the individual lives, as a man or woman.
Do Sex and Gender Always Match?
No. Broadly speaking "transgender" refers to an individual who lives (sometimes also described as "performs") a gender that does not match his or her sex. For example, a male who lives as a woman could be considered transgender. "Transvestite", "transsexual", and "drag king/queen" are all commonly used as synonyms for "transgender" as well.
What Is Gender Identity Disorder?
Gender Identity Disorder stems from when an individual feels that his or her sex and gender do not match and feels negatively about this situation. Gender Dysphoria, or being uncomfortable with the gender that an individual was assigned based on his or her biological sex, is the core criteria for this condition. Often those with Gender Identity Disorder describe themselves as living in the wrong body.
What Is Gender Reassignment?
Gender reassignment is the process by which an individual brings his or her gender in line with his or her sex. This process usually entails personal, social and medical aspects. Most significant is surgery, sometimes also called sexual reassignment surgery, in which an individual's genitals are changed from male to female or female to male. This surgery may also reshape the chest area, among other things. Sometimes this surgery is referred to as a "sex change".
Is Gender Reassignment Protected By Law?
Yes. Since May 1999 the Sex Discrimination (Gender Reassignment) Regulations have protected the rights of individuals in regards to gender reassignment. These Regulations come into force in each individual case when an individual first tells a medical practitioner that (s)he is interested in and would like to begin this process and extend through to protect their rights while they are undergoing and after they have completed gender reassignment. The Gender Recognition Act 2004 also protects the rights of individuals who have undergone gender reassignment by allowing them to apply for a Gender Recognition Certificate. This Certificate is the first step towards gaining a new birth certificate with the new personal information listed.
Where Can I Find Out More About These Topics?
All of the topics mentioned here can be extremely emotional and bring about much confusion, frustration and even fear. If you are looking for more information on gender identity, gender dysphoria and/or gender reassignment, contact your GP or another medical or mental health professional. GIRES, the Gender Identity Research and Education Society also offers information and support related to these and similar topics.
You might also like...