Promoting Disability Awareness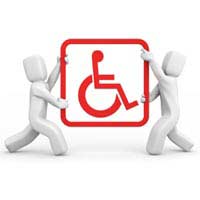 Promoting disability awareness may require extra effort, but it may also be necessary when addressing groups of people who believe that those with different ability levels are not able to live a full life, or do not deserve the accommodations which will allow them to lead a full life. Training, literature, dedicated programmes and informal socialising are all effective methods of promoting disability awareness and reducing discrimination based on differing levels of ability.
Promoting Disability Awareness Through Training
Equality legislation requires certain things of organisations like companies and schools, but simply complying with legislation may not be enough to convince community members how and why equality is important for everyone. Formal training in disability issues and equality legislation may be enough to inform others, but getting them to explore how they can promote equality amongst everyone, regardless of ability, may require more consistent acquaintance with individual who live with a disability. Certified trainers are able to offer this type of training to employers and educational organisations and for the most part it is always a good idea to require everyone, of all levels of responsibility, to attend training sessions if anyone is required to attend.
Promoting Disability Awareness With Literature
Setting up a formal training day or series may seem like overkill if your community simply needs a little reminder of the importance of ensuring equality for all members, so putting together some literature on the subject might be another good option. Basic information on common disabilities, preferred vocabulary within the differently abled community, access and accommodation requirements as set forth by law and case studies of real people can all make an impact towards promoting disability awareness. Keeping this literature on its own or as part of a larger equality handbook are both appropriate.
Promoting Disability Awareness Via Dedicated Programmes
Putting disability awareness on an annual schedule to keep it fresh in everyone's minds is always a good idea for promoting the subject. An awareness week or month are the usual methods for disseminating information and hosting events, often within the framework of several other special weeks or months throughout the calendar year as well. Training days, revamped literature packets, special trivia games, fundraising efforts like cake sales and free or fancy dress days, table quizzes, entertainment events (dramatic or musical performances), skills workshops, lucky dips and competitions aimed at increasing awareness all make up dedicated programme schedules. The more hands-on an activity, for example learning about wheelchair access issues and skills or studying basic sign language, generally the more engaged a given audience will be with the topic.
Promoting Disability Awareness By Informal Socialising
In addition to formal methods of promoting disability awareness, allowing informal socialising to take place can also be effective. People tend to listen more to friends who have experience with an issue, and they tend to remember more when they have specific examples to work with. Encouraging people to socialise together, or providing them time to do so every once and a while during the work or school day, should help everyone become more familiar with issues of ability and equality.
Promoting disability awareness requires consistent effort and continuous creativity to hold the attention of everyone involved. Formal training, literature, dedicated programmes and informal socialising are all effective methods of promoting disability awareness within a given community.
You might also like...