Explaining a Disability in the Classroom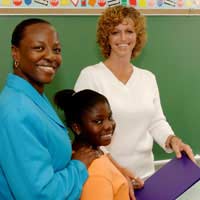 For many parents sending a child with a disability to a new school or new classroom is fraught with worry. Some parents choose to tackle the questions surrounding their child's disabilities head-on with direct explanations to staff, parents or other students themselves. If you think you might like the opportunity to talk directly to those involved in your child's education consider the method you would like to use, obtain relevant permission to do so, talk to your child about what you would like to share and then cater your message to your target audience for best results.
Consider Your Method
Most parents who would like to transmit information about their child and his or her disability due so either in writing or in person. Letters to other parents is a great way to be able to clearly give information for a greater level of more complex understanding, but it also puts the responsibility of explaining this information to kids on other parents. This takes the control out of your hands in that other parents may choose not to pass information to their children, or the may not fully understand what they are trying to explain. Another popular method is for a parent to speak with their child's class directly. This method is direct and helps the parent retain control of the information, however many children will find it embarrassing to have Mum or Dad in their classroom or may not want to be the centre of such direct attention. Consider your child as well as the information you would like to communicate before settling on your preferred method.
Obtain Relevant Permission
While it is unlikely you will need permission to make an appointment to speak with a teacher or classroom aid about your child you will most likely need permission to address a whole class or other parents. Speak with your child's classroom teacher to find out if (s)he knows the best way to approach seeking such permission. If (s)he does not, move along to a year head or member of the school administration. Be prepared for them to ask for copies of any written materials or lecture notes you plan to use, and for them to need to formally approve such items prior to giving you approval to go ahead.
Talk With Your Child
Prior to going ahead with a letter or presentation speak with your child about your plan. After all, it is both is or her body and life you will be talking about. Ask your child:If (s)he wants you to speak to others about his or her disability.If (s)he would like to be involved in the writing or presenting.
What medical information (s)he would like explained.
Which details about his or her daily life would be useful as examples.
How you could explain the kind of help (s)he might need from others.
If there are any items (s)he thinks would be helpful to show others.
If there are any items you are not allowed to show or discuss.
If there is any information (s)he considers off-limits for others to know.
If there are any personal stories (s)he will not allow to be told.
Cater To Your Target Audience
Once you know you can go ahead with your plan and you understand the information and content you would like to discuss, mould your presentation to your target audience. For example, a letter to parents could contain more complex vocabulary and technical jargon while a presentation to children might focus more on age-appropriate examples. You might also decide if you will share any items, such as allowing children to take turns riding in or pushing a wheelchair. Finally, prepare answers to common questions and practice what you will say if you find a question intrusive or embarrassing for your child. Help your child prepare for this eventuality as well.
Explaining a disability in the classroom can be a great way to quickly and easily convey information and answer questions. If you are considering this kind of action be sure to consider the method you would like to use, obtain relevant permissions, talk to your child about your plan and cater the information to your target audience.
You might also like...
I agree with the information on this page. it is quite useful to read and it links with my work.
Hellie
- 13-Mar-12 @ 11:22 AM