What is Weightism?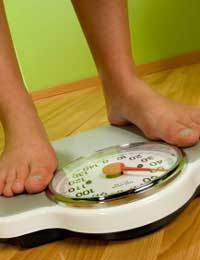 Weightism, also known as weight-based discrimination, is a kind of discrimination against people based solely on their weight. This type of discrimination rests on societal attitudes towards weight, and what society believes an unhealthy weight says about a person's personality and even inherent worth. Understanding the different types of weightism, the prevalence of the problem, typical arguments against weightism and how to confront this type of discrimination are all important to ultimately defeating it.
Types of Weightism
There are two main types of weightism at work today, discrimination against those who are viewed as obese ("too fat") and discrimination against those who are viewed as underweight ("too thin"). Our society often believes that weight is something everyone can control, so those who put on or lose too much are choosing not to keep themselves within a "normal" range. Very often our society also ascribes personality traits to those who are thought of as overweight (for example, lazy or indifferent to appearance) or underweight (for example, weight or looks obsessed). Making these snap judgements, and treating people differently because of them, is at the core of weight-based discrimination.
Prevalence of Weightism
Studies undertaken in the United State of America have concluded that in today's society weightism is more widespread than both racism and sexism. For many Western experts weightism is now seen as the last "socially acceptable" form of discrimination because weight is believed to be a trait that is both controllable and directly related to one's health. For those who suffer from weightism, they may experience discrimination:
When seeking medical care.
When applying for employment or voluntary positions.
When seeking insurance such as medical or travel.
When using public transportation.
When shopping or otherwise attempting to gain the attention of a salesperson.
When eating out at restaurants, cafes, etc.
While food shopping, from shop employees and other shoppers.
Arguments Against Weightism
Those who do not believe in weightism often argue that there is nothing wrong with caring for others' health and expecting them to maintain a healthy weight. Unfortunately this simplistic view of weight does not take into account that everyone's bodies work differently and a "healthy" weight is impossible to define in the same way for everyone. Nor does it take into account that regardless of weight everyone deserves to be treated with dignity, respect and enjoy equal rights.
Confronting Weightism
Those who experience weightism are often so shocked and hurt by the discrimination that they don't think about how they could have reacted until after the incident has passed. It's never too late to confront weightism though. Common ways of standing against such discrimination include:
Answering verbal taunts, jokes or cruel statements with "I can't believe you just said that."
Asking others why they feel so strongly about weight.
Asking others why they believe they can treat others poorly due to weight.
Sharing your own history of discrimination with others and drawing links to their behaviour.
Lodging a formal complaint against someone who discriminates against others.
Writing a formal complaint to an organisation in which weightism has become institutionalised.
Arguing for weightism to be officially recognised in organisation mission statements.
Seeking legal representation against such discrimination if you feel it appropriate.
Weightism is alive and well in society, though not everyone recognises it or even realises it exists. Understanding the different types of weightism, the prevalence of the problem, arguments against it and means of confronting it are all important to fighting weight-based discrimination.
You might also like...