Discrimination Due to Body Art and Modification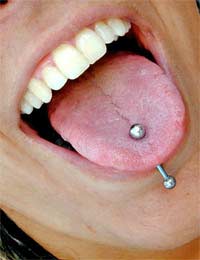 Discrimination based on personal appearance is very much alive in society, though many people do not consider it a "real" form of prejudice. Very often these people assert that everyone can control their personal appearance so those who do not conform to societal norms are choosing to be viewed differently. While this may be the case with body art and body modification, it does not mean that anyone should be allowed to treat someone differently because of his or her appearance. Understanding body art and modification, the ramifications of dress codes and how to tackle prejudices should help you confront discrimination and prejudices in your own life.
What is Body Art?
Body art is art that is made with or put onto the body. The most common type of body art found in Western society tends to be tattooing (injecting ink into the skin to create text or designs, usually permanent) or body painting (painting the skin, usually only temporary). Using henna to create designs on the skin is also a form of body art, and some people might even argue that applying makeup or nail varnish are types of temporary body art. Tattoos, also known as body ink, can be small and separate designs, they may run together to form "sleeves" on the arms or they can cover any larger part of or even the whole body.
What is Body Modification?
Body modification is the altering of the body for artistic or aesthetic rather than medical reasons. A lot of body modification could also be considered body art, because the people who engage in it do so with the belief or understanding that they are decorating their bodies. Common examples of body modification include:
Body piercing, including ear piercing and stretching the resulting piercing holes.
Surgical augmentations, including implants.
Surgical modifications, including cosmetic surgery such as rhinoplasty ("nose job").
Hair cutting or styling, for example favouring more "extreme" styles.
Wearing neck rings, usually to lengthen the neck/lower the shoulders.
Branding or scarring the skin.
Filing or otherwise shaping the teeth, as well as adding implants or ornamentation to teeth.
Foot binding.
Dress Codes and Discrimination
Perhaps the most blatant form of discrimination those who engage in body art and modification report is that related to employment. Many organisations require a dress code in order to create or maintain a certain image, set certain standards of professionalism, and/or conform to health and safety regulations. Such codes should be applicable to all employees, regardless of race, religion, gender or position/level of employment. Individuals who believe such codes violate equality legislation, however, may be able to bring a case against their employers under the:
Human Rights Act 1998
Disability Discrimination Act 1995
Sex Discrimination Act 1975
Religious or Belief Regulations 2003
Tackling Prejudices About Body Art and Modification
Less formal instances of prejudices against body art and modification can be found in daily life, everything from shopkeepers keeping a closer eye on tattooed customers to parents ushering children away from pierced strangers. If you would like to tackle such prejudice in your own life consider chatting with people about your choices and answering any questions they may have. Educating others is a great way to correct any myths or misinformation that is circulating. Becoming more involved in your local community may also bring you into contact with more people who can get to know you as a well-rounded person. Finally, challenging any joke, taunts or gossip you hear about yourself or others can also help you challenge prejudices and discrimination against body art and modification.
Both body art and modification create less traditional physical appearances, and some people react to such appearances with fear, prejudice and discrimination. Understanding body art, body modification, dress codes and discrimination, as well as tackling prejudices in your own life should help you create more equality both in your own life and your larger community.
You might also like...
I have7 tattoos.and 16 piercings and am 46yrs old. Work in the pub trade. I have noticed a lot how people discriminate others with tats and piercings and think people can be so small minded at times. I work hard have never been in trouble with police I am a law abiding citizen with qualifications, yet am looked at like I am a criminal , I think these narrow minded individuals need to be more educated on other peoples idea of art and fashion.
hooolz
- 18-Jul-12 @ 11:07 PM
Please find the link that will hopefully start to get Body Modification Law in place. It will not happen over night, however there is a lot of positives coming from parliament http://act.libdems.org.uk/group/liberal-bodymodificationdiscrimination-legislation
King Body Art
- 28-Oct-11 @ 10:01 PM