Put Your Work Relationship on an Equal Footing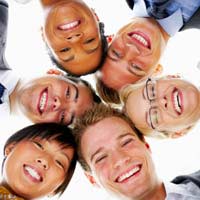 Equal opportunities do work both ways. There is a relationship that has to be built between employer and employee and it is up to each party to make sure they contribute to the development of not only to individual needs but, where appropriate, make changes which will be of benefit not only to groups of people but everyone in a working community.
Communication
The foundation stone of this and any employer employee relationship is communication. This has to, often, be built up in a time of heightened stress and anxiety for both parties and it is important that communication between you is clear and as free as possible from over emotive statements.
If you need to have meetings about situations in which you feel you are being disadvantaged, the best place to start is your manager. Until your managers are made aware of the situation there is no realistic way in which they can be expected to act. Sometimes there are 'hidden' circumstances that are not able to be addressed until you bring them to the fore.
For instance, if you feel that because you have a specific learning disability or condition you will require a greater amount of time to complete an assigned task; unless you make your managers or other appropriate people aware that you may need some concessions in order to complete the work it would be unreasonable for managers to have to second guess, or make adjustments unless they were aware of the issue in the first instance.
The first step is perhaps a meeting or at least an email to your manager telling them the problem and the possible solution or outcome. Things may get resolved at this point and there may be no more need for concern. However, if you have raised the issue and, if it is possible to accommodate reasonably, adjustments have not been made then the problem may have to escalate.
If there are problems
In an ideal situation any equal opportunity issues will be addressed at source and any accommodation that is to be reasonably made will be done and we can all get back to the task in hand. Sometimes there are occasions where this can go wrong and communication breaks down.
The first step in addressing this is to put your concerns down in writing, and possibly follow it up with another meeting. There could well be a lot of meetings and discussions and emails about the issues you are experiencing and it is always useful to document what you are facing. If you feel that you need someone to support you in meetings then that is something that can be arranged, speak to your Human Resources department and see what support they can offer you if you feel that you need to take your concerns higher. They may be able to suggest other solutions or support to you, which may make the process easier.
What can they do?
There are a few outcomes to the situation, they can give you the reasonable adjustment, and, they won't adjust because it is not reasonable, or they can meet you halfway.
What is a 'reasonable adjustment' will depend on each and every circumstance in which a person is claiming that they do not have access to equal opportunities. It may be as simple as providing a new chair or desk or more complex such as putting in more accessible washing or toilet facilities or providing additional support.
What constitutes reasonable depends on the circumstances, and often the size of the business you work for. A big multinational company does not have the same resources of a small family run business. That is not to say that you are denied equal opportunities, but your expectations of what is reasonable should be tempered.
Remember
Trying to reach a compromise is about communication, without which there cannot be a solution. Talking to your employers and finding out more about your obligations to them and them to you is the way to get ahead and make sure you can give yourself a chance to succeed and give your employers the service they need from yourself as an employee. If you are unsure about what you feel you are able to do or you are worried, bring these concerns to your manager or to your Human Resources department. Raising concerns early can stop the snowball effect of a small problem getting out of hand. Write down details from all meetings, follow them up with an email to confirm the substance, and take action where needed.
You might also like...