Explaining Your Religion to Others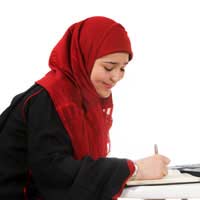 Religious discrimination and prejudice are ugly and it shouldn't be your responsibility to explain your religion to others who have made incorrect assumptions or have incorrect information about your beliefs. But, sometimes you may feel that an informal conversation about your religion could set others straight and make your life easier in the long run. If you are interested in explaining your religion to others then make sure that you choose an appropriate venue for such a chat, stay calm and objective during the discussion, focus on basic beliefs as you talk and welcome questions that anyone else might have.
Choose an Appropriate Venue
While it may seem like a good idea to talk about your religion in the setting in which discrimination occurred, it may be that your workplace or educational setting isn't conducive to such discussions. If you have any ideas about explaining your religion at work or school then be sure to explain your plans to your superiors or the relevant authorities and gain their permission before you take your ideas any further. What you envision as an informal discussion others might interpret as your attempt to convert others or otherwise bring inappropriate religious content to what should be a neutral setting. If you can not obtain permission for such a discussion in your preferred setting then consider organising another venue, such as a quiet lunch or drink, which could suit your plans just as well.
Stay Calm and Objective
When you do meet up with others in order to better explain your religion, focus on staying calm and objective throughout the discussion. Don't preach, raise your voice, descend into vulgar or inflammatory language or say that your religion is the only right religion. Also avoid making threatening statements, such as that others will face consequences for their beliefs or for rejecting your beliefs. Not only will staying calm and objective allow you to better reach your audience, but it will better protect you from accusations of aggressive behaviour, threatening comments or otherwise inappropriate overtones.
Focus on Basic Beliefs
As you endeavour to explain your religion to others you will likely want to discuss the beliefs that you hold sacred. Focusing on basic beliefs is important, because if those to whom you are speaking do not understand these basic beliefs then the likelihood that they will ever understand the finer points of more complex belief is greatly reduced. There is, however, a difference between explaining a basic belief and attempting to "sell" this belief to others. Focus on the fact that you believe in this topic by prefacing it with "I believe that..." or "In my religion we believe that..." rather than stating that it is the "correct" belief. If possible, try to boil your religion down only a handful of basic beliefs so that you don't overwhelm your audience all at once.
Welcome Questions
Welcoming questions in an explanation about your religion is the only way to make sure that you can address any questions or concerns that other might have, as well as better correct false assumptions or inaccurate information that others may have picked up from other sources. It may be that others will not want to wait until you have explained something to ask their questions, and at times you may feel as though you are being interrogated. Stay calm and answer questions to the best of your knowledge.
If you have never heard of something, say so and promise to get back to that person after you have investigated the topic. If you a question comes up about something that is incorrect, don't be afraid to say this. As with all things, use tact and maybe even humour to keep a question and answer session from becoming combative and if you feel that someone is attempting to wind you up then either say this and end the conversation or make a concerted effort to stay calm and continue on in a friendly manner.
Explaining your religion to others can be tricky, but it may help you correct some of the falsehoods that others hold about your beliefs or practices. Choosing an appropriate venue, staying calm and objective, focusing on the basic beliefs of your religion and welcoming questions should all help make your explanations more successful.
You might also like...