Glossary of Common Religious Terms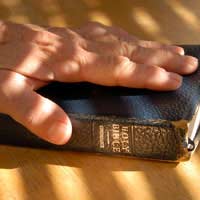 Each religion has a theological vocabulary which can make explaining it's core beliefs difficult. When people use religious terms that others don't understand, or that is used in different ways in different religions, the likelihood of overall misunderstandings is much higher.
To help you become familiar with common religious terms we have put together the following glossary for your reference.
AD
Meaning "anno domini", the year of the Lord. Used to describe chronology since the birth of Jesus Christ.
Allah
Arabic word meaning "the One True God". In the West, "Allah" and "God" are often used interchangeably.
Anglican Communion
Includes the Church of England, national churches, the Anglican Church of Canada and the Episcopal Church in the United States of America.
Anti-Semitism
Hatred or persecution of, prejudice or discrimination against Jews or Judaism.
Apocalypse
Destruction of evil and triumph of good.
Armageddon
Prophesised as a final battle between Jesus, Satan and their armies.
Baptism
A rite of Christianity performed by a member of the clergy and used as an initiation into the Church. The age at which a Baptism is performed may differ in different denominations, as may the method of using water (sprinkling on the head or full body immersion).
Bar Mitzvah
A ceremony for Jewish boys who, at the age of 13, are considered religiously responsible.
Bat Mitzvah
A ceremony for Jewish girls who, at the age of 12, are considered religiously responsible.
Bhagavad-Gita
"The Song of the Lord", a holy text used in Hinduism.
Bible
The holy text used by Christians. Made up of the Old Testament and the New Testament.
Blasphemy
Concept of acting against God, such as by taking his name in vain or denying his existence.
Buddhist
A follower of Buddhism, the teachings and philosophy of Siddhartha Gautama, the Buddha.
Catholic
Most commonly refers to members of the Roman Catholic Church.
Chanukkah
Jewish Festival of Lights, commemorating the miracle at a the Temple in Jerusalem when a small quantity of oil burned for eight days and nights. Also spelled Hanukkah.
Christian
A member of a Christian church or, more broadly, a person who accepts Jesus as the Christ and follows his teachings.
Communion
A Christian rite which involves sharing bread and wine as a commemoration of Jesus' last meal and/or the body and blood of Christ.
Denomination
A recognised religious group.
Diwali
The Hindu, Jain and Sikh Festival of Light commemorating the return of Lord Rama after he had been exiled for 14 years and defeated the demon king Ravana.
Easter
A Christian holiday commemorating the resurrection of Jesus.
Eucharist
Another term for "Communion".
Heaven
Christian term for the home of God.
Hijab
The scarf that many Muslim women wear to cover their hair.
Hindu
A follower of Hinduism, including the yogic traditions, the predominant religious system in India.
Iman
A Muslim term for "belief".
Imam
A Muslim term for the leader of worship in a mosque.
Islam
A religion which considers the Koran the literal word of Allah/God, and Muhammad the last Prophet.
Koran
The holy test of Islam, considered to be the literal word of Allah/God, also spelled Qur'an or Quran. Transmitted to Muhammad by the archangel Gabriel.
Mormon
A member of the Church of Jesus Christ of Latter Day Saints.
Mosque
Muslim house of worship, also known as a "Masjid".
Muslim
A follower of Islam.
Nirvana
Buddhist term for a state of mind in which suffering has ceased and the cycle of birth, death and rebirth has stopped.
Paradise
Muslim term for the home of God, or Heaven.
Priest
Term for a religious leader in Christianity, Hinduism and more. Usually male.
Protestant
A Christian denomination which is not Roman Catholic, Anglican or Eastern Orthodox.
Rabbi
Leader of a Jewish synagogue.
Ramadan
A Muslim commemoration of the communication of the Koran to Muhhamad. Muslims observe this 28 day period by fasting before sundown.
Religion
A system of belief regarding a deity. Usually with accompanying ethics, rituals and ceremonies.
Sabbath
A day of rest and contemplation. Observed on Saturday in Judaism and Sunday in Christianity.
Satan
A supernatural being believed to be pure evil. Also known as the Devil or Lucifer.
Synagogue
A Jewish house of worship.
Talmud
Hebrew translation of "teaching". Assembled Jewish oral law and tradition.
Torah
Jewish holy text, the first five books of the Hebrew Scriptures (Old Testament) believed to have been written by Moses.
Trinity
Christian belief that God is composed of three beings at once: Father, Son, Holy Spirit.
You might also like...
These terms cover the basics, and can be useful for RE lessons and the layman. Good, simple explanations and reference to which religion, too. They also show some of the basic similarities between the major religions in terms of celebrations and concepts, so it effectively serves a double duty, too, educating in several ways.
vicar
- 27-Sep-12 @ 1:54 PM