Questionnaire: Can You Recognise Sexism?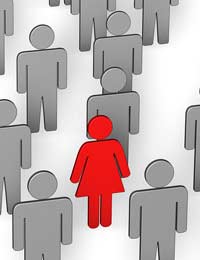 Sexism, or the belief that one sex/gender is inferior to the other, is illegal in the United Kingdom under the Sex Discrimination Act, the Equal Pay Act and the Sex Discrimination (Gender Reassignment) Regulations.
These laws protect against discrimination based on sex/gender in employment, training, education and more. And yet even with such legislation, sexism is still rampant in the United Kingdom with the vast majority of women workers feeling that they have experienced sexism.
With sexism so widespread it would seem that sexism would be easy to recognise, but this is not always the case. As with any type of discrimination, sexism can be both personal and institutional, obvious and subtle.
To help you determine if you can spot sexism when it occurs we've put together the questionnaire below. Answer each statement with a "yes" or "no" and then total your answers to find out if you really can recognise sexism around you.
Questionnaire
1. Offering workers different wages based on their sex/gender can be a form of sexism.
2. Using derogatory and/or patronising terms for members of a certain sex/gender can be a form of sexism.
3. A teacher offering more attention and instruction to one sex/gender can be a form of sexism.
4. Only hiring people of a certain sex/gender for a specific type of job can be a form of sexism.
5. Expecting only people of a certain sex/gender to be interested in specific activities can be a form of sexism.
6. Identifying activities and chores as "male" or "female" can be a form of sexism.
7. Selecting workers for redundancy or pay cuts because of sex/gender can be a form of sexism.
8. Steering students towards specific subjects based on their sex/gender can be a form of sexism.
9. Sexual harassment is a form of sexism.
10. Keeping workers away from specific projects because clients prefer to deal with someone of another sex/gender can be a form of sexism.
11. Not promoting or offering a pay rise to a worker because of that person's sex/gender can be a form of sexism.
12. Males can be victims of sexism.
Can You Recognise Sexism?
If you answered "no" to any of the questions above then you can not recognise sexism. Discrimination based on sex/gender exists in many forms, some so subtle that it may leave witnesses wondering if it really occurred at all. But remember, the first steps to ending sexism are recognising it and challenging it.
Some forms of sexism, such as inappropriate nicknames or remarks, can be challenged directly at the time that they occur while others, such as unequal pay or hiring practices, will need to be challenged at the institutional level. Either way, keeping note of sexist incidents when they do occur can help provide evidence of any patterns of discrimination and researching policies regarding sexism complaints will allow you to most efficiently register your complaints when ready.
For further information or advice, talk to any supervisors, union representatives, Citizens Advice and/or the Equality and Human Rights Commission.
About Equal Opportunities is sponsored by Purely Energy, who have funded a lot of our content. If you are looking for a low cost business energy supplier, take a look at their website.
ABOUT EQUAL OPPORTUNITIES IS FOR SALE.
This website is for sale [more info].
You might also like...