Questionnaire: Have You Been Sexually Harassed?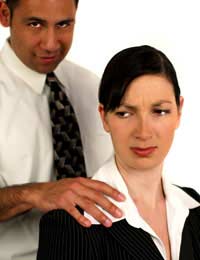 Everyone knows that sexual harassment is inappropriate and unacceptable, but not everyone knows what exactly sexual harassment is. A very broad definition of sexual harassment is words or actions which are sexual in nature and preclude someone from carrying out his or her work to the best of his or her ability. But what does this actually mean?
Trying to figure out if something was or was not sexual harassment can be frustrating, so we've created a questionnaire that can act as a foundation for determining if sexual harassment has taken place. Simply answer "yes" or "no" to the questions below and total your answers to find out if you have been sexually harassed.
Questionnaire
1. Have you ever been the recipient of unwanted physical contact at work?
2. Have items of a sexual nature (pictures, posters, etc) every been displayed in your workplace?
3. Have you ever had rumours of a sexual nature spread about you at work?
4. Have inappropriate jokes ever been circulated via email or otherwise in your workplace?
5. Have you ever had inappropriate graffiti of a sexual nature written about you at work?
6. Have you ever been the recipient of unwanted leers, sexual comments, noises or gestures in your workplace?
7. Have you ever had someone follow you and/or badger you to go out with them after work?
8. Have you ever received text messages or emails at work, or from someone at work, which are sexual in nature?
9. Have you ever been referred to in sexist or degrading terms by someone else associated with your workplace?
10. Have you ever been asked inappropriate questions of a sexual nature at work?
11. Have you ever been "rated" based on looks or sexuality in your workplace?
12. Have you ever been told that to obtain something at work you must engage in an intimate relationship?
Have You Been Sexually Harassed?
If you answered "yes" to any of the questions above then you may have been sexually harassed. Sexual harassment itself is often considered subjective, but it is the effect that the words or actions have on the victim which really matter, not what others think about it.
Sexual harassment is illegal under the Sex Discrimination Act, which recognises that sexual harassment can happen to anyone - man or woman, heterosexual or homosexual, young or old. But sexual harassment is not always is obvious, nor must it happen to a specific person, it can be present if an offensive atmosphere is created in a workplace, such as by "decorations" or "teasing" that is allowed to persist.
Most organisations today should have a policy in place regarding sexual harassment, and if there isn't one then such a policy should be created. Those who believe they have experienced sexual harassment in the workplace should research any applicable policies and keep notes on the behaviours which they consider harassing. Asking a manager to stop sexual harassment is an option, however if it is believed that the manager is part of the harassment or unwilling to put a stop to it then a union representative, Citizens Advice and/or the Equality and Human Rights Commission should be able to offer further information and/or advice.
About Equal Opportunities is sponsored by Purely Energy, who have funded a lot of our content. If you are looking for a low cost business energy supplier, take a look at their website.
ABOUT EQUAL OPPORTUNITIES IS FOR SALE.
This website is for sale [more info].
You might also like...
Very best n very helpful, Thnx! :)
Sahir
- 11-Feb-16 @ 10:05 PM