Questionnaire: Is Your Workplace Supportive of Diversity?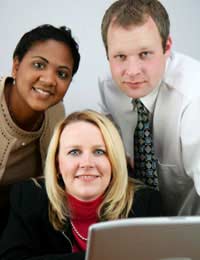 Diversity in the workplace can still be a sensitive issue, particularly if some employees believe that there is great diversity and equal opportunities but other employees feel that there is still discrimination at work. Looking objectively at your workplace and carrying out an informal audit can help you begin to determine if diversity is truly supported at your workplace.
To help you determine if your workplace is supportive of diversity we have put together this questionnaire. Answer "yes" or "no" to each question, total your answers and match this number to the results at the end to find out if your workplace supports diversity.
Questionnaire
1. Does your workplace employ a diverse range of people?
2. Does your workplace allow all employees to celebrate holidays appropriately?
3. Does your workplace have a diversity and/or equal opportunities policy in place?
4. Does your workplace provide equipment to make all areas accessible to people of all abilities?
5. Does your workplace make employees aware of equal opportunity policies and provisions?
6. Does your workplace have procedures in place for reporting discrimination?
7. Does your workplace have recruitment procedures that encourage diversity?
8. Does your workplace host seminars on diversity awareness?
9. Does your workplace encourage all employees to attend events about diversity awareness?
10. Does your workplace have a Diversity Officer or another employee with special knowledge of diversity?
11. Does your workplace guarantee promotions and pay rises based on merit only?
12. Does your workplace have a reputation for promoting diversity and tackling discrimination?
Is Your Workplace Supportive of Diversity?
If you answered "yes" to between one and four questions then your workplace appears to be moderately supportive of diversity. It may be that your workplace is small or that there are few employees so things like diversity policies and diversity awareness workshops are not thought to be as important. However, if you believe that your workplace could be more strongly supportive of diversity then you might suggest activities, events or policies that could accomplish this goal. Just be prepared for others to assume you are volunteering to do some of the extra work associated with such projects!
If you answered "yes" to between five and eight questions then your workplace appears to be supportive of diversity. If you have particular concerns about diversity or discrimination in your workplace, ask which member of staff handles such topics. It may be that there is no staff member specifically trained in diversity, discrimination and/or equal opportunities but this could be an opportunity for you to become directly involved in advancing these causes in your workplace. You never know, it may be that others have similar questions or concerns and that once you raise such issues you discover many other co-workers who want to work with you towards a more diverse workplace.
If you answered "yes" to nine or more questions then your workplace appears to be strongly supportive of diversity. Look over the questions to which you answered "no" as these may be issues that your workplace could address in order to better support diversity and equal opportunities. But don't forget to celebrate that your workplace is committed to promoting diversity and reducing discrimination. These are characteristics of which all employees should be proud.
You might also like...
Well, itresting and helping questions there,thankyou, only have a question, what Factors of diversity tally with globalization?
Davey
- 29-Jul-13 @ 4:29 PM