Sexism in the Classroom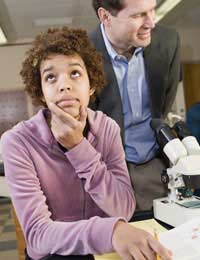 Sexism in the classroom can be subtle or obvious, fleeting or consistent, off-the-cuff or methodical. Unfortunately, sexism in the classroom means that no one, male or female, is getting an equal and unbiased education. In order to fight sexism in the classroom, students must first recognise it, understand why it is wrong, and take action to correct it. This is not necessarily an easy path, but it is the only option to ensure that education is fair and honest in all corners of the UK.
Recognising Sexism in the Classroom
For some students it is easier not to recognise sexism in the classroom because if they do then they must come to terms with the fact that their own teachers are not fair. Depending on the age of the students this can be a hard fact to deal with. Other students may not recognise sexism in the classroom because all of their teachers have acted in similar manners, so biased behaviour seems normal to them. However, simply because a student is inexperienced in recognising sexism in the classroom does not make its existence right. Sexism can take many forms, including calling on students of one gender more often, or more often for "hard" questions that it is believed the other gender wouldn't understand, making remarks about one gender's abilities in a certain field (for example, science or maths), "guiding" students into subject and career choices based on their gender rather than interests or abilities, and assigning classroom chores or tasks based on gender.
Understanding Why Sexism in the Classroom is Wrong
International studies have shown that sexism in the classroom affects students' self esteem, overall educational levels, career choice and ultimately income. This means that what may appear to be just a little more attention given to one gender may ultimately result in scores of students achieving less than their best throughout their lives. With such far reaching consequences, sexism in the classroom must be ended. In the UK, the Sex Discrimination Act of 1975 protects individuals from being discriminated against in vocational training and education but unfortunately this legislation (and any amendments and extensions) can not necessarily stop all examples of sexism in the classroom. However, most schools do have policies of non-discrimination in place, as well as procedures for reporting discrimination in educational settings.
Taking Action to Correct Sexism in the Classroom
Students who recognise sexism in their classrooms, and understand that there are laws and policies against this type of discrimination, must take action to end it. Documenting incidences, such as by keeping a record of events in the classroom, and using these facts to lodge a formal complaint is usually the best way to start such proceedings. Having more than one complaint filed usually makes an investigation more serious so if possible students concerned about sexism in the classroom should try to band together. Parental involvement often lends weight to such investigations, so if the student is in primary or secondary school then it might be appropriate for parents to discuss the matter with educators and administrators. If, after following the correct policies and procedures, students are still unhappy with what occurs in their classrooms then discussing the situation with a solicitor may be an option.
You might also like...