Confronting Gender Based Pay Discrimination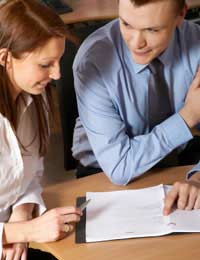 The Equal Pay Act of 1970 mandates equal pay for equal work, but gender based pay discrimination does still occur. If you suspect that you are a victim of unequal pay for equal work, do enough research to more fully consider if this is the case.
Determine any difference between employees which may affect pay, investigate your own prospects at another company and investigate pay standards within your industry. Once you have all of these facts, ask for a private meeting with your boss and/or human resources to discuss your findings and possibly re-negotiate your pay.
Determine Any Differences Between Employees
If you suspect that someone of another gender is being paid more than you for doing the same job, determine if there are any differences between yourself and this other employee. Have either of you been with the company longer? Did either of you join the company from a different level of employment (for example, effectively got a promotion or took a demotion)? Are there any differences in daily tasks or responsibility levels between your position and that of your colleague? Does your company have any policies regarding rates, seniority or bonuses which might be affecting yourself and your co-worker?
Think critically about any factors which may account for any pay differences between employees and work hard to make this investigation as objective as possible.
Investigate Your Prospects at Another Company
It's always good to know your worth as an employee, so don't be afraid to investigate your prospects at another company. What would another company be willing to pay you? Would you receive a different benefits package? How would your working hours and/or holidays be affected should you work for another employer? Would you be eligible for bonuses with another company? Even if you are happy with your current company, arming yourself with this information could come in handy during future negotiations and it never hurts to know exactly what you are worth to others - particularly if you feel your current employer may not quite realise it.
Investigate Pay Standards Within Your Industry
Investigating pay standards within your industry is another way to check if you are being paid fairly for your work, and if someone else may be being unfairly paid simply due to his or her gender. In public service positions checking pay standards can be a little easier as pay scales are usually publicised. In the private sector investigating pay standards may take a little more work.
A quick look around current employment ads can give you a bit of background, job centres may be able to provide more details, unions are often able to advise on average industry pay and professional organisations tend to keep optimal guidelines of what members should be paid at certain points in their careers. Use all of these sources to get the most well-rounded picture possible about pay standards in your industry.
Ask for a Private Meeting
After putting in all of the work to find out about appropriate pay in your company and industry, don't be afraid to use this information in an attempt to re-negotiate your pay. Ask for a private meeting with your supervisor and/or a member of your company's human resources if this is appropriate, otherwise wait for your yearly review or other scheduled meeting for such a discussion.
Do not begin your meeting by attacking a fellow employee's pay. Rather, keep the focus on yourself and present your case about why you are feeling unfairly compensated. Know in advance if there is any outcome you would consider besides monetary compensation, such as flexible working time, more holiday time, assistance with your current workload or other benefits. If you don't feel that you are being heard or that others are taking your concerns seriously, you may need to decide if you are willing to file a formal grievance or even take a case to a tribunal.
The Equality and Human Rights Commission (England, Scotland, Wales) and the Equality Commission for Northern Ireland should be able to offer more information and advice on gender equality and employment.
Confronting gender based pay discrimination is most successful when you are well prepared for such a confrontation. Investigate any differences between employees or positions, investigate your prospects at another company, investigate pay standards within your industry and then ask for a private meeting with your supervisor and/or a human resources representative to discuss your findings and your remuneration.
You might also like...