Ageism and Health and Social Care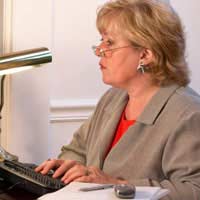 "Ageism" refers to discrimination related to age. Usually ageism describes discrimination perpetrated against older members of society, those aged 50 years or older, but unlike other forms of discrimination ageism frequently goes unnoticed in the United Kingdom. Ageism is harmful to older citizens because it dismisses their individuality and instead makes generic (and usually stereotypical) assumptions about their abilities, their circumstances, their interests and their preferences.
Unfortunately, ageism can often be found in the health and social care systems of the United Kingdom - the very systems that should be providing maximum support to older people. Thankfully there are measures that anyone can take to help fight ageism in health and social care in the UK.
Health Care and Ageism
Most individuals access the health care system in a given year, though it is the older population that is usually stereotyped as frail, ill and in constant need of drugs, therapies, specialist appointments and much more. In reality some studies show that only 1% of the older population is in hospital at a given time!
Unfortunately stereotypes are not the only type of ageism that must be contended with - although it is certainly frustrating when medical staff patronise an older person and/or assume that (s)he is unable to make her own decisions - as there are some instances in which older people may actually be denied care due to their age. Denying referrals to specialists, denying new or experimental medicines and even denying information that may be needed to make life-altering medical decisions are all ways in which the health care system, and specific medical professionals, may practice ageism.
Social Care and Ageism
It only seems fair that older people in need of care should have some say over how they are cared for, who cares for them and which of their needs are cared for first, but unfortunately this is an ideal situation that is not necessarily the reality for all older people. Sometimes insufficient or less than optimal caring situations are the results of a lack of funds in the local authority, but some situations result because of a mindset that older people don't know what is best for themselves. Reducing older citizens to children is intolerable. This form of ageism, even when done with the best of intentions, remains harmful to older citizens who should receive both respect and as much independence as possible in their own lives.
Fighting Ageism in Health and Social Care
Unfortunately there is no legislation expressly prohibiting certain types of ageism in health and social care, but there is much that individuals can do to fight this discrimination and ensure fair treatment for everyone. When faced with private health and social care, individuals can take their custom to companies and individuals who are willing to treat every patient with the same respect and dignity. Companies and individuals who do any less can be reported to watchdog organisations like the BBC's Watchdog.
Complaints to may also be made to local authorities and professional bodies such as the British Medical Association, the British Association of Social Workers or even the UK Homecare Association. Finally, notifying agencies working for equal rights for all individuals such as Age Concern will also help to keep others informed of unfair practices and allow word to spread quickly and easily about those who practice discrimination on the grounds of age.
You might also like...