Speaking to Others About Their Racism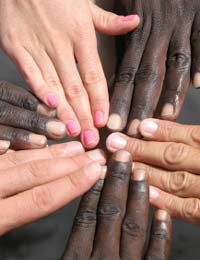 Speaking with family, friends and colleagues when they say or do something racist may seem awkward, but it is also the only way to truly communicate your disapproval. When you are unable to stay quiet do your best to give others privacy during your discussion so that no one feels unnecessarily embarrassed and keep the conversation about perception so that both of you can try to see the situation from the others' eyes. Discuss your own experiences as a counterpoint to the racist sentiment being challenged and listen, don't just lecture about appropriate behaviour so that you know you are having a respectful conversation.
Ensure Privacy
Talking to someone about their comments, jokes, vocabulary or behaviour, particularly when you need to let them know you found it unacceptable, is the kind of situation that can make bystanders feel awkward and the person in question feel defensive. None of this makes for a productive chat between the two of you. Instead, see if you can find a way to speak with your friend, relative or co-worker alone. Ask him or her to stay back after a group conversation, out for a coffee or meal later on that day or even later in the week, or drop by his or her desk, office, room or home if it would be appropriate to do so. Remember, however, that others may consider your advances harassment if they are unceasing or inappropriate, so always consult an organisation handbook or request advice from a superior if the situation arises at work.
Converse About Perceptions
When you speak with someone else about his or her racism make sure you keep the focus not on that person but on how others could perceive his or her words or actions. This should spare your friend, relative or co-worker some embarrassment and keep him or her from becoming overly defensive. After all, you are not saying (s)he did anything or meant anything, but rather that others could see it that way. Use phrases like:
"I'm sure you didn't mean it this way, but..."
"Some people may not see the humour in... because..."
"Your comment/action could be perceived as..."
"I think others might have felt as though..."
"People who don't know you could believe..."
"Anyone who saw/overheard that might think..."
"That kind of language usually communicates..."
Discuss Your Experiences
When someone you care about remains adamant in their racist beliefs you may be able to make them see reason by discussing your own experiences. It will always be hard for others to argue with something you personally lived through and know to be true, though some might try. You can refute these appeals with simple statements like:
"I have never known that be to true."
"I have never experienced that."
"I have never felt that way."
"I have never encountered such a situation."
"I think all parents/teachers/bosses/solicitors can be that way, not those of a certain race."
"I don't believe that."
"I can't believe you just said that."
Listen, Don't Just Lecture
During any conversation you will need to take a step back and listen to the other person's side of the story, even when you don't want to and can't believe that they could have any justification for their racist views. You will be surprised, however, because almost everyone has a reason for the way they act, even when it is racist. A great way to acknowledge the other person's reasons is to repeat them back to him or her. Say "So you believe X because Y happened to you?" Allowing the other person to answer this question will help him or her see the connections (s)he has made, and hopefully why they were wrong.
It is awkward, uncomfortable and downright sad when a loved one says or does something racist, but ignoring the incident will not make the racism go away. Speak with others about their racism so that you can make sure you are part of the solution to racism, not part of the problem. Find a time and place for a private chat, converse about how other people might perceive what was said or done, discuss your experiences related to the topic at hand and listen rather than simply lecture so that you can have the most productive discussion possible.
You might also like...